Edited 24/04/2012: an updated version has been published to correct a few bugs. Please read this article.
Our new PC/SC driver is now online and ready for download! This driver (code name : SDD480-BA) has been certified my Microsoft's Windows Hardware Qualification Labs (WHQL) for both 32 and 64 bits operating systems.
It targets all SpringCard USB CCID readers :
– CSB6
– CrazyWriter
– EasyFinger
– Prox'N'Roll PC/SC
Note: as the Prox'N'Roll has only one smartcard slot (its contactless card interface), it is not required to use our driver since the default CCID driver supplied by Microsoft also does the job.
The SDD480-BA driver is also ready for the new generation of USB CCID products that will be launched in a near future.
To download the driver, please go to http://www.springcard.com/download/find.php?file=sdd480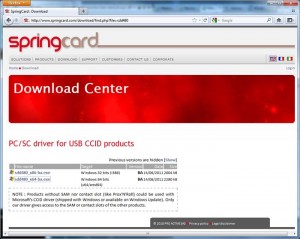 Choose either
– sdd480_x86-ba.exe for 32 bits targets (certified and signed for Windows 2000, XP, Vista and Seven on i386 core)
– sdd480_x64-ba.exe for 64 bits targets (certified and signed for Windows XP, Vista and Seven on amd64 or intel64 core)
The setup package uncompress the driver in Program Files\SpringCard\SDD480_x86-ba (or Program Files\SpringCard\SDD480_x64-ba depending on the target) and then installs the driver into Windows' system directory. Of course you must run the setup with administrative priviledges.
The driver will also be available through Windows Update very soon.

A few more details for integrators and developers
Should you need to redistribute this driver with your own software or to recreate a setup package bundled with yours, just copy the uncompressed files and invoke DPInst.exe when you want the installation to take place.
Although we've done our best to ensure full compatibility with our previous (unsigned) driver and with Microsoft's default CCID driver, please pay attention that the naming of the slots may be a little different in some cases. In fact slot naming and numbering has been designed to show clearly which slots belongs to which reader. Let's suppose we have 2 CrazyWriter and 1 CSB6 connected to the PC. The 1st CrazyWriter instanciates 3 slots: CrazyWriter Contactless 0, CrazyWriter SAM A 0, CrazyWriter SAM B 0; the 2nd CrazyWriter instanciates 3 slots as well: CrazyWriter Contactless 1, CrazyWriter SAM A 1, CrazyWriter SAM B 1. Then the CSB6 instanciates 5 slots : CSB6 Contactless 2, CSB6 Contact 2, CSB6 SAM A 2, CSB6 SAM B 2, CSB6 SAM C 2. You see that the number is the same for all slots of one reader. This is the best approach to know which SAM (or contact interface) comes with whatever contactless interface.