We are very happy to announce the release of a new software utility which will help you configure our readers.
You can download it by clicking here software.
This program is running from Windows XP to Windows 11.
Once downloaded, double click on the setup file.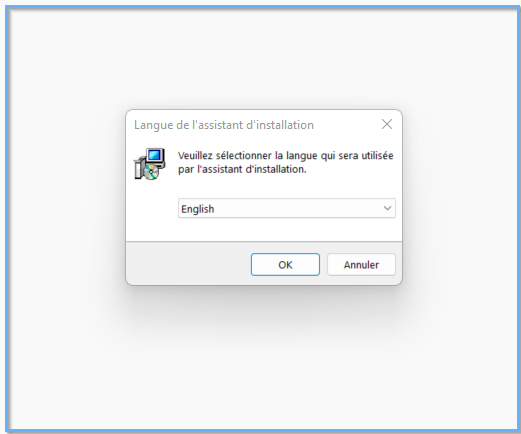 You can keep the default options and click « Next » on each screen.
A shortcut will be created on your desktop and in the Windows Start Menu (under « Springcard / MultiConf »)
At the end of the setup, you can choose whether to launch the program or not.
How to configure a reader
On the main screen, go on the "File" menu then select  "New" (or type Ctrl + N).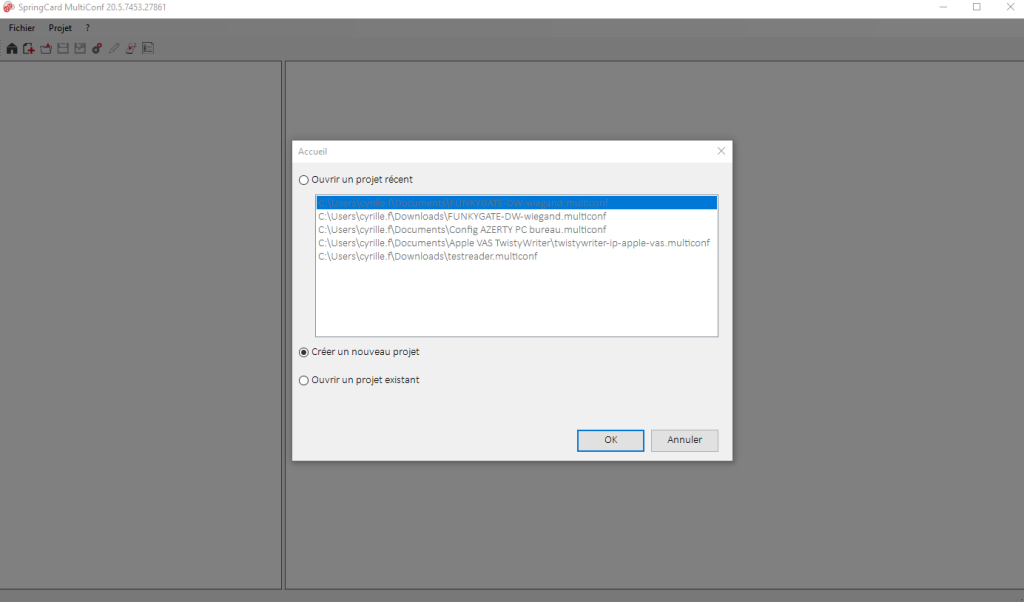 On the opened dialog box, select your product and click on"Create".
It should look like this :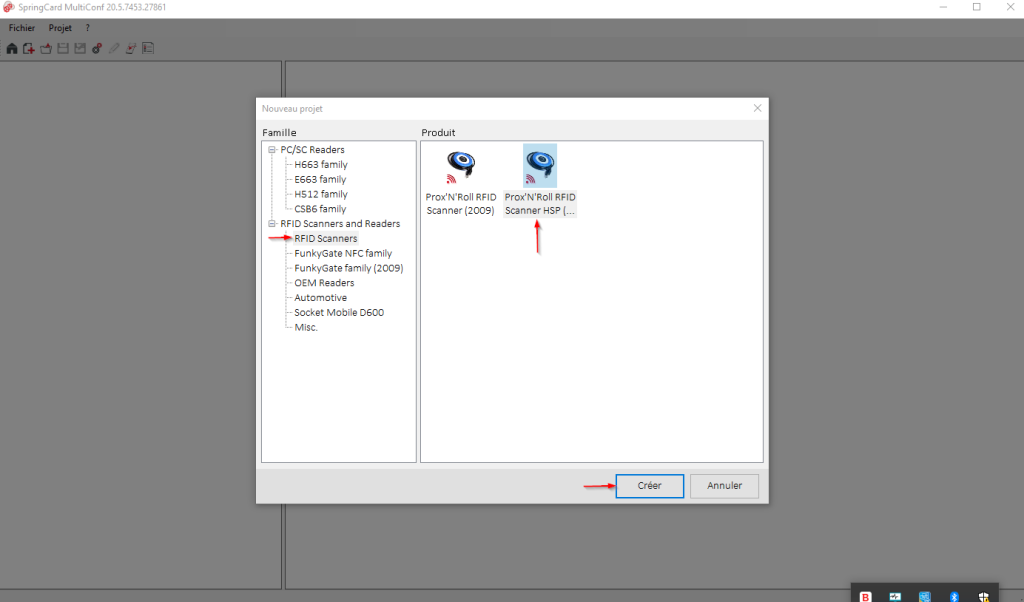 The main screen will then be presented like this :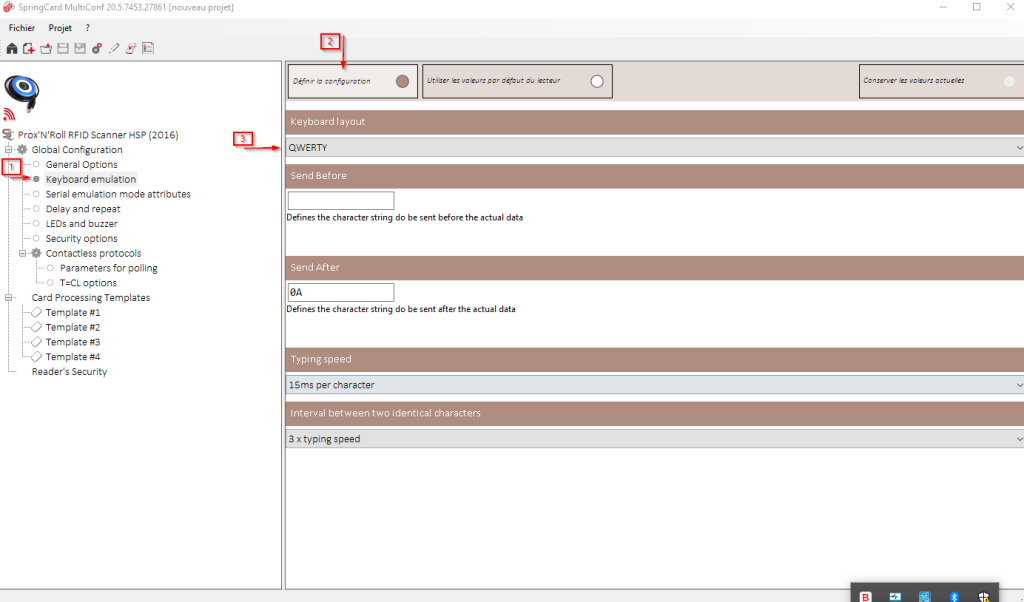 The left side contains configurations sections, the right side enables to change each option related to the selected section.
Please select the appropriate keyboard type (QWERTY, AZERTY (Desktop or Laptop), QWERTZ) for your use.
The template part is linked to each NFC/RFID card technology, i.e. you can configure the reader to work with up to four card types (MIFARE® Classic, MIFARE® DESFire, Thinfilm NFC Barcode (Prev. Kovio), …).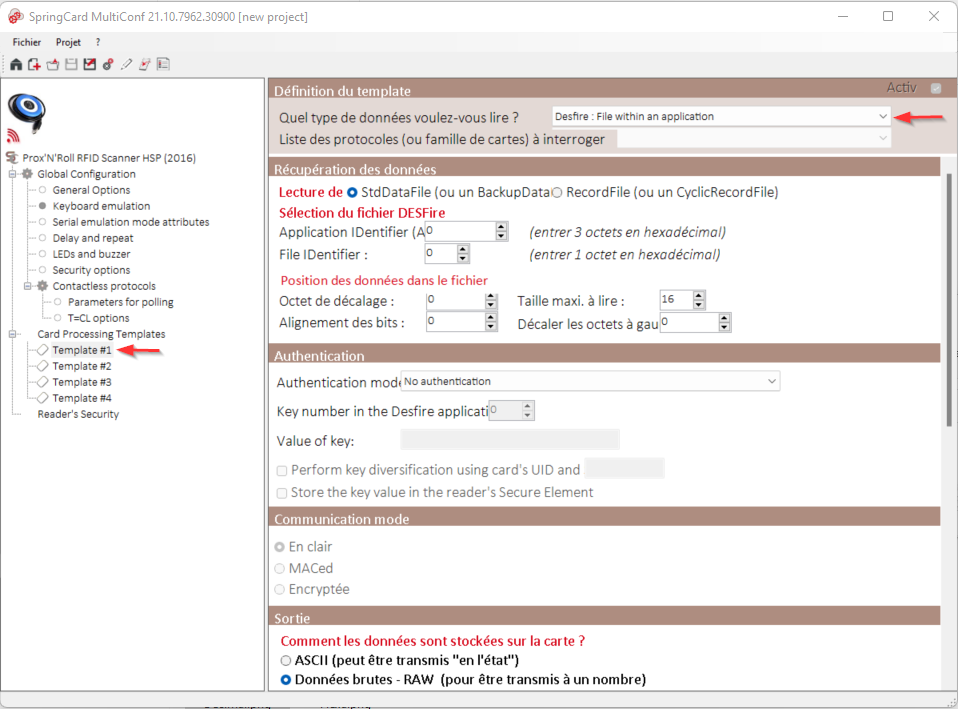 Once configuration is complete, you can save it (click "File" then "Save as"). You can also, if your reader is connected, apply the changes by clicking on "Project" then "Write configuration into reader" (Ctrl + W).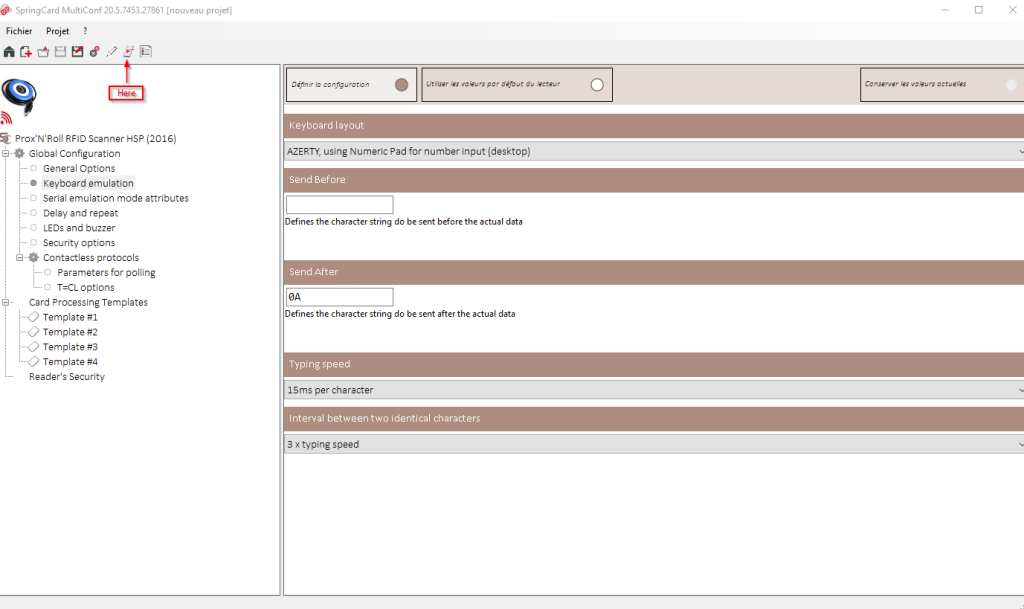 You should obtain the following window :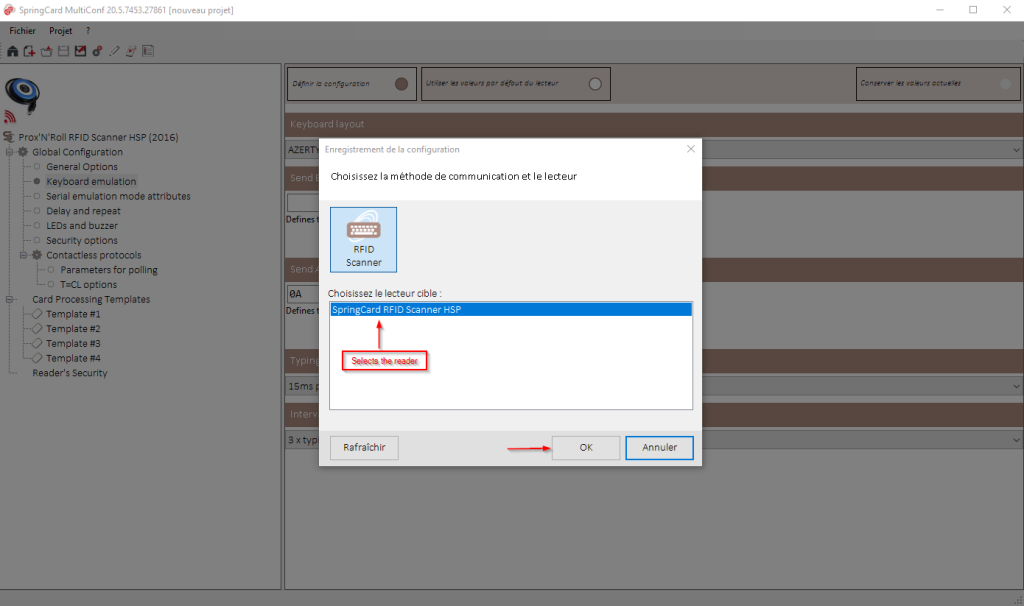 Select the right reader then click "OK" : the program will then write the configuration in the reader.
You may need to unplug and reconnect your device, for the changes to be applied.
Download
You can download the program in the Download section of our website.
Notes
Actually, only the PC/SC devices (CSB6, Prox'N'Roll PC/SC, EasyFinger and CrazyWriter) are supported. More devices will be supported in the next versions.
If you have an internet connection, the program will search for program and configuration updates. If it finds one, you will be automatically notified about it.
THIS SOFTWARE IS PROVIDED "AS IS" AND THE AUTHOR DISCLAIMS ALL WARRANTIES WITH REGARD TO THIS SOFTWARE INCLUDING ALL IMPLIED WARRANTIES OF MERCHANTABILITY AND FITNESS. IN NO EVENT SHALL THE AUTHOR BE LIABLE FOR ANY SPECIAL, DIRECT, INDIRECT, OR CONSEQUENTIAL DAMAGES OR ANY DAMAGES WHATSOEVER RESULTING FROM LOSS OF USE, DATA OR PROFITS, WHETHER IN AN ACTION OF CONTRACT, NEGLIGENCE OR OTHER TORTIOUS ACTION, ARISING OUT OF OR IN CONNECTION WITH THE USE OR PERFORMANCE OF THIS SOFTWARE.