Presentation
SpringCard Support Team is commited into giving the best support service to our customers. In most situations, the first step to solve an issue or only to answer a particular information request is to collect a few technical data regarding the computer – and to clearly identify the SpringCard devices that are involved.
MultiDiag is a small Windows-based tool that retrieves quickly and easily the technical data we need to help you efficiently.
For instance, if you have a Prox'N'Roll PC/SC or any other reader like a CrazyWriter HSP connected to your PC, MultiDiag shows :
the status of the PC/SC Service (ScardService)
the status of our PC/SC Driver (sd16055)
the reader's serial number and firmware version.
The « copy all to clipboard » button pushes all these information into Windows' clipboard, so you just have to paste it (Ctrl+V shortcut) into an email to forwared it to out Support Team.
We have tested the program on :
Windows XP
Windows 7
Windows 8
Installation
Download SpringCard MultiDiag setup here.
Run the setup program with administrative priviledges to install MultiDiag.
After installation, launch the application from Start Menu -> SpringCard -> MultiDiag.
Usage
The application displays a single window.
The content of the « General information » and « HID and PC/SC Readers » will be different on your computer.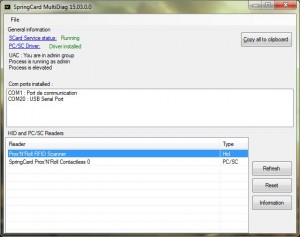 In the upper right corner you have a button used to copy all system information to the clipboard.
In the top of the screen you have some information about the Scard Service, our PC/SC driver and about your Windows User Account (Control).
The bottom part is used to list the PC/SC and HID readers connected to your PC.
You can double click on each line or click on the « Information » button to get some information about your reader.