SpringCard's technical team is proud to announce the launch of a new generation of contactless readers for high-end access control applications, the FunkyGate NFC family.
Using the same shell as previous generation's FunkyGate-DW (Dataclock, Wiegand and RS485 interfaces) and FunkyGate-SU (RS232 and USB interfaces), the FunkyGate NFC family introduces a brand-new member, the FunkyGate-IP NFC.
As the name suggests, the FunkyGate-IP NFC brings the power of TCP/IP up to the door or gate. A standard RJ45 plug connects the reader to any Ethernet LAN (10 or 100 Mbps). More than that, the FunkyGate-IP+POE NFC reader is powered directly by the network (Power Over Ethernet), thus removing the need for the classical 12V power cable.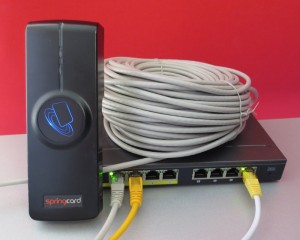 The FunkyGate-IP NFC and FunkyGate-IP+POE NFC readers take full benefit of SpringCard's know-how in all the various 13.56MHz protocols, and pave the way for a easier and wider use of NFC mobile phones in access control and identification applications.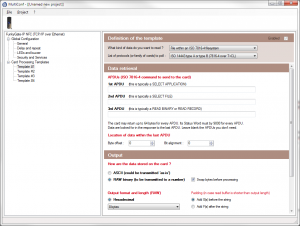 Thanks to the 4 card processing templates -a concept shared with the Prox'N'Roll RFID Scanner and among all SpringCard standalone readers-, the FunkyGate-IP NFC is able to fetch virtually any data from current contactless cards and RFID tags.
The 'NFC' in the product's name denotes the exclusive ability to support new reading schemes based on NFC Forum's concepts :
Read an NDEF record stored on a NFC Tag and retrieve its data,
Receive an NDEF message from a mobile phone, using NFC Peer-to-peer technology (SNEP over LLCP, Push mode : PUT request from smartphone to reader),
Get data from a card-emulation application, possibly running on an Android system thanks to the HCE (Host Card Emulation) feature.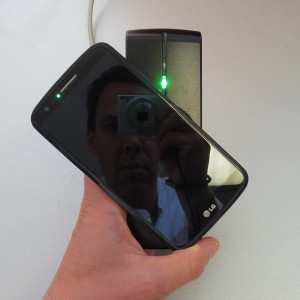 When it comes to communication with the access control system (embedded control unit or computer running an access control server application), FunkyGate-IP NFC provides an efficient, low-overhead, fully secured communication protocol using TCP sockets and AES cipher for authentication, integrity and confidentiality.
An SDK will be released soon, together with a demo of an access control server application running on a small Linux system, typically a Raspberry Pi.
The reader also embeds a tiny HTTP server that makes it possible to develop a client application in no-time using high-level languages. A simple REST API exposes the reader's behaviour (basically controlling the LEDs and buzzer) and the card/tag numbers to the outer world.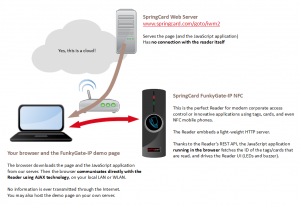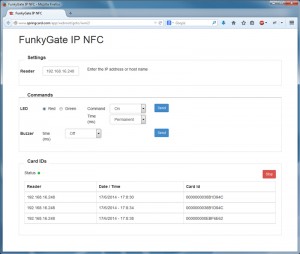 First batches of FunkyGate-IP NFC (and FunkyGate-IP+POE NFC) are already shipping to our early-adopters. Don't hesitate to contact us for a demo or to evaluate the product.
New documents and the SDK will be published on our web site in the oncoming weeks. In a second step, the E663, which is the core the FunkyGate-IP NFC is built on, will be offered to developers and integrators as a versatile Ethernet-based RFID/NFC OEM module. Stay tuned !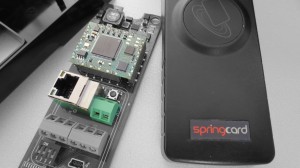 .